July 14, 2023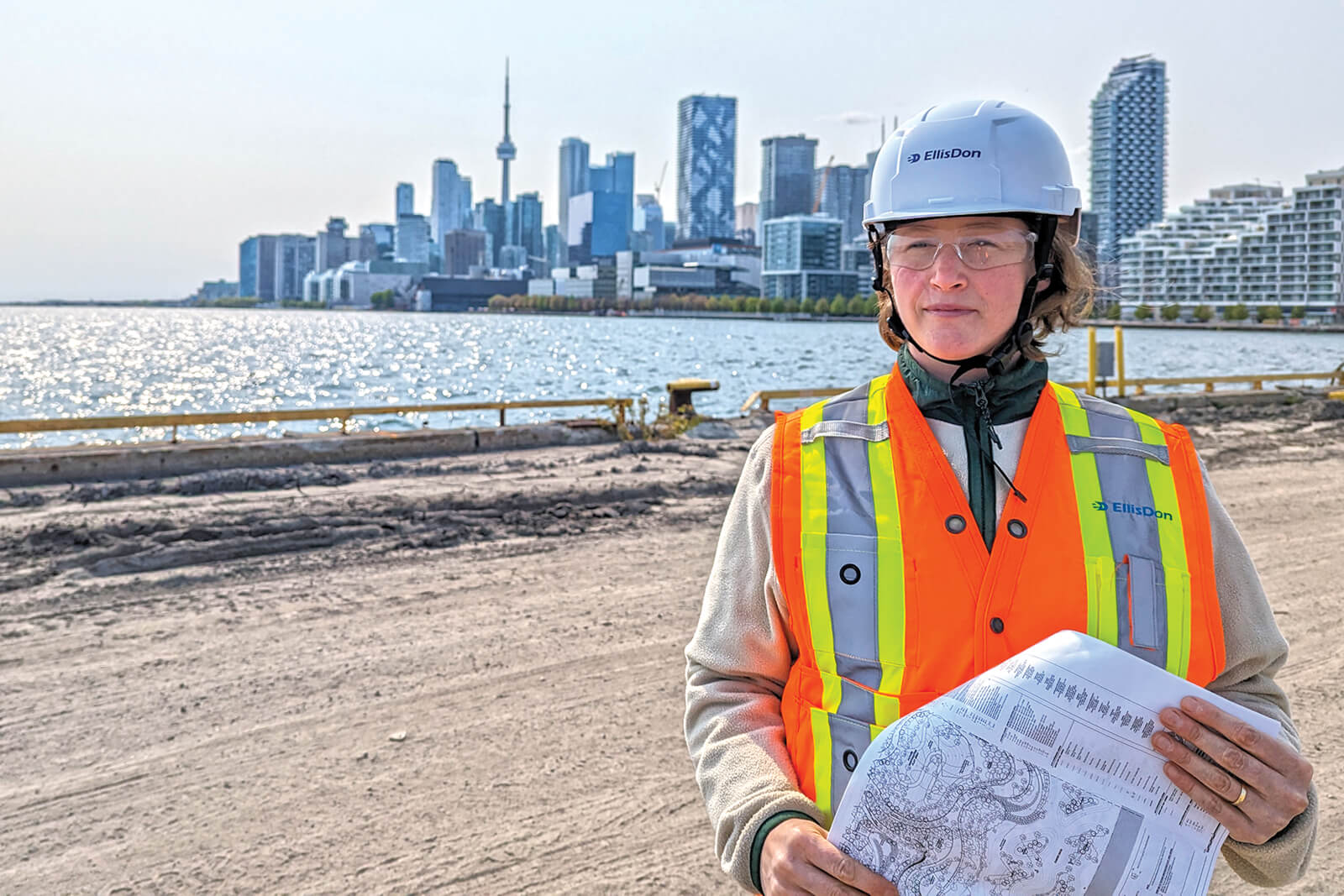 Sophia Bearden swaps flour for flowers
By Karina Sinclair
Previously a baker, Sophia Bearden was prompted to re-evaluate her career during the pandemic. Exploring city parks and spending more time in nature with her two children made Sophia realize she wanted to work outdoors. Her experience in the Landscape Technician program at Humber College sparked a keen interest in using native plants for restoration, which earned her the $1,000 Horst Dickert Memorial Scholarship from the Ontario Horticultural Trades Foundation (Foundation). Sophia graduated in Spring 2023 and is eager to gain more real world experience.
What work experience do you have relating to landscape/ horticulture?
Growing up I took on occasional odd jobs doing garden maintenance for neighbours, mostly weeding gardens or cutting grass. I grew up in a rural area surrounded by many farms, and in high school would spend a couple weeks of the summer picking strawberries. I also spent a summer working as a tree planter in northern Ontario. Although these jobs were very physically demanding and didn't pay particularly well, spending the summer working outside was something I valued and found rewarding.
What prompted you to pivot your career toward landscaping?
I worked as a baker for nearly seven years with Motherdough Mill and Bakery. I learned a lot working as a baker and enjoyed the work, but after having my second child I found the overnight shifts hard to manage with my family.
I was on parental leave when the pandemic started. With the school and daycares closed it wasn't practical for me to return to work during that time.
During the pandemic, I spent a lot of time exploring Toronto's many parks with my two children. As life began to normalize, I decided I didn't want to go back to the night shifts. The pandemic had given me an awareness of how important parks and public green spaces are to quality of life in cities.
That's what got me interested in pursuing a career in the landscape industry.
What career path do you plan to take after graduation?
I have just been hired by EllisDon to work on the Port Lands Flood Protection Project. I am very excited to be working on this project. I had the opportunity to visit the port lands work site on a field trip with my Sustainable Horticulture course at Humber College and was really inspired by the project.
Last summer I worked for the Humber Arboretum, doing invasive species control, and assisting with native landscape restoration. This experience inspired me to pursue a career in landscape restoration, either in maintaining existing natural green spaces or building new ones. Public parks and nature conservation areas are something I am very passionate about and hope to build a career that is beneficial to these spaces.
Do you plan to pursue more education?
I don't have any plans for more formal education at the moment. I'm really excited to get working in the industry, and the demand for people with landscape training is really high right now. I look forward to a lot of on-the-job learning opportunities. I have found people in the landscape industry very passionate about their work and generally very enthusiastic to share their knowledge and experience. This has made entering the industry very inspiring and rewarding for me so far.
How did you hear about the Foundation scholarships?
I learned about scholarships from my instructors at Humber College. I was fortunate to learn about the work that Landscape Ontario does from a presentation during one of our programs weekly "Town Hall" lectures, where each week someone working in the landscape industry would come and speak to our class. I learned a lot during the talks and got to see the wide range of employment opportunities there are in the landscape industry.
How did earning this scholarship make a difference for you?
Receiving a scholarship from the Foundation not only helped reduce some of the financial pressures of being a student, but was also helpful in attracting the notice of potential employers. All the potential employers that I had job interviews with asked about the scholarship when they noticed it on my resume. Being totally new to the landscape field it was nice to have the recognition of a scholarship from the Foundation.
Who do you respect or look up to in the profession?
I really enjoyed working at the Humber Arboretum last summer and learned a lot from all the staff there, especially Lynn Short, the Environmental Stewardship Coordinator.
After receiving the Horst Dickert memorial award from the Foundation, I had the opportunity to learn about Horst Dickert. It was fascinating to hear stories of his innovative influence on the landscape industry in Ontario.
What has been your favourite part about learning about landscaping and horticulture?
I am really interested in how plants function together, and learning how to use native plants in combinations to create more environmentally sustainable landscapes. Learning about how plants can be used to restore lands that have suffered environmental degradation is also something I have found particularly fascinating.
---

To learn more about the many scholarships available under the Foundation and Cullen Family Scholarship Program, please visit ohtf.ca/scholarships.
The deadline to apply each year is June 30.