November 8, 2022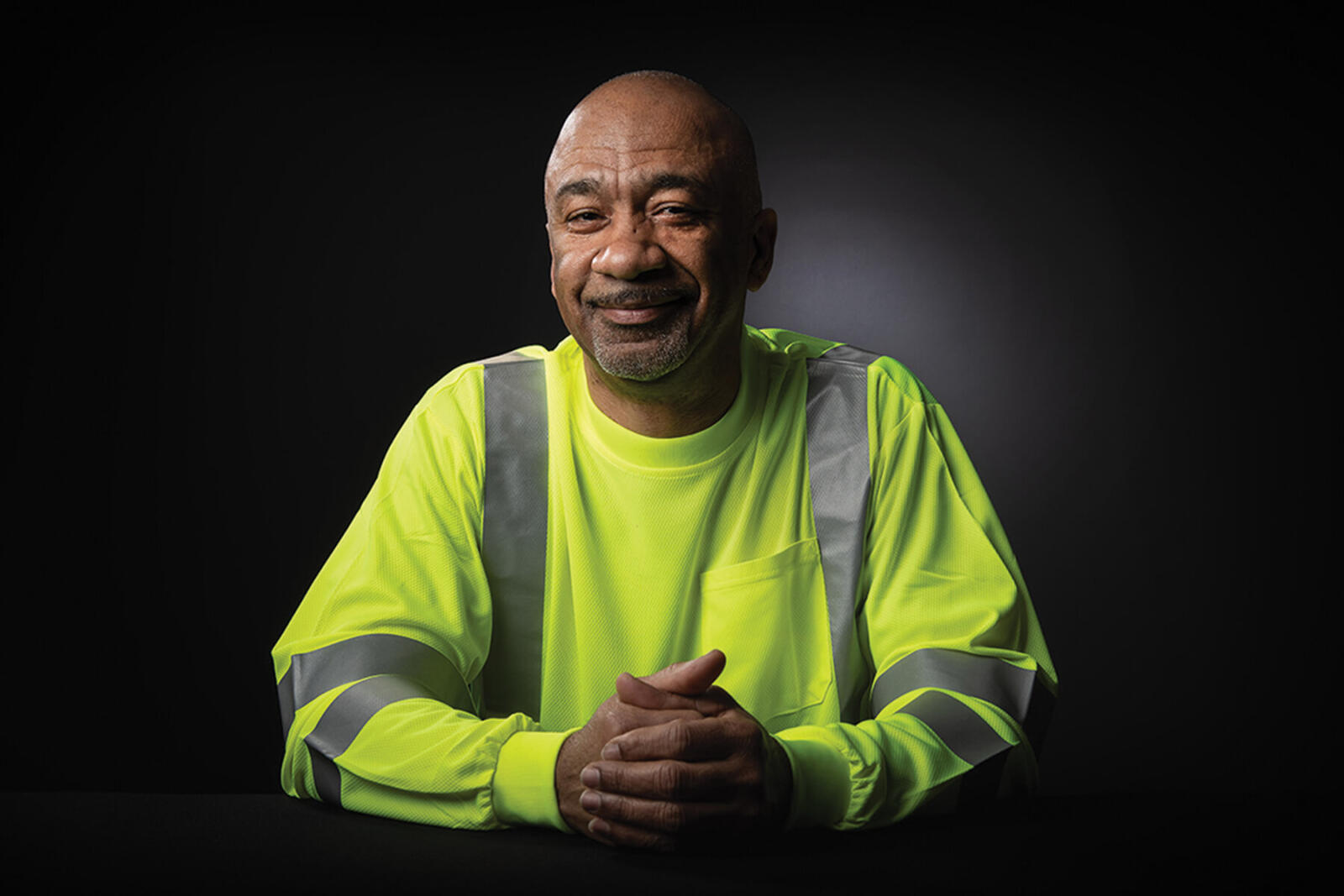 The healing power of horticulture
Interview with Rohan Harrison by Scott Barber
Beyond the obvious environmental benefits, one could say the landscape profession has the power to heal. On a recent Landscape Ontario podcast, Rohan Harrison spoke with Scott Barber about his experience as a 'steward of creation' and how he believes green spaces — and those who nurture them — can improve physical, mental, and even social challenges faced today.
Harrison is a lead in the grounds department at Sunnybrook Hospital in Toronto, Ont., and has been a member of Landscape Ontario for nearly 30 years. He is also a member of the association's Diversity, Inclusion and Belonging Committee.
Where did your interest in horticulture and healing landscapes begin?
I've been in agriculture my entire life. But what led me into the horticulture profession directly? I would say it's a generational influence. Throughout my life I've been involved through my family farms in Jamaica.
The natural progression was to embrace agriculture as a profession, which I did. Eventually, that love for plants and the outdoors landed me the opportunity to manage a larger commercial farming operation. There, I was responsible for 3,900 workers on a 11,400-acre farm and I was also responsible for the research and production of sweet sorghum.
It was while working there I noticed that a certain group of workers, though they were very poor, were always happy. They always seemed so relaxed compared to the factory workers and I wondered, why are these guys always so happy, so relaxed, so carefree?
When I came to Canada, I did not get employed right away. So what I did to fill my day was to read agricultural material. I would refresh my memory on the various research projects I had completed in the past.
During that time, I had a few trips across the border and I heard about Ivy League schools. I'd ask myself why most of the schools had such great landscapes. So I was wondering, was the landscape why the students did so well? Then I came across the work done by a Dr. Roger Ulrich regarding green spaces and health and well-being. That's when I started to appreciate the reason why those workers back in Jamaica were so happy. I believe it was because they had benefits from the green space they were working in.
Describe what you've been able to accomplish at Sunnybrook.
My role at Sunnybrook is to look after the green spaces here. I direct our contractor — who is also a member of Landscape Ontario — to ensure they maintain the same discipline, the same criteria we have for our landscape. To manage it in an organic, sustainable way.
The gardens and the green spaces actually serve as an extension to the important and lifesaving work within the walls of the hospital. We have 33 acres of turf areas, and over 5,700 trees. We have different types of gardens, therapeutic, healing, edible. Every day, patients and their family and staff use the green space around the hospital as a place of escape, reflection, enjoyment, and healing because as you know, there is strong evidence that a real or simulated view of nature plays a huge role if you want health and well-being.
The access to green space is very important to our mental health, physical fitness, cognition, immune function, [and can] lower mortality rates. There are so many health benefits that Sunnybrook promotes green space, both as a medical access and also as a mindfulness and a self-care to staff members.
Sunnybrook Hospital in Toronto, Ont. has 33 acres of green space, including 5,700 trees. Photo Credit: Sunnybrook Hospital.
---
Why have you continued to be a supporter, member, and volunteer with the association for all these years?
Since my background is agronomy, I always wanted to be part of something that appealed to my intellect, to my training, and provide opportunity and experience. That I could experience continued growth. LO fit the bill. I could see the seeds that were being planted at LO at that time and I thought this could be a great association in the years ahead.
And was I ever right! We were never created to do life alone, professionally, socially or otherwise. LO provided me with a conduit to meet some wonderful professionals, including many genuine, great folks, especially in the turf sector group, and now currently on the Diversity, Inclusion and Belonging committee. What a selfless group of professionals. And honestly, today I am better professionally because of my involvement with LO.
What inspired you to join the Diversity, Inclusion, and Belonging committee?
Well, it's a long story, but I really didn't want to be a part of this committee because of the fear of tokenism. After being around LO since the early '90s, I was always challenged by the optics that greeted me at events. At events, I was the only one of the BIPOC (Black, Indigenous, People of Colour) community there. So I'm looking through the lens of someone from the African diaspora. It was very homogeneous, not very inviting, which can be viewed as exclusive.
For marginalized folks, there was no attraction or enticement to join, but I still wanted to be a member, and when I listened to Tony Dungy, Super Bowl coach, he said something that still resonates with me to this very day.
He said: "I've never seen a successful team whose membership pursue different objectives or who rebel against the culture. In fact, a team that isn't unified and heading in the same direction isn't much of a team at all. It is simply a collection of individuals." Tony further reminded us that, "high performing teams of members who strive to own their rules and give their best, they take ownership, they show up faithfully, ready to work hard and give their best to whatever they have been called to do."
That's when the true revelation came to me, that, "thinking I'm not the problem, is sometimes the problem." What am I doing to help realize inclusive, diverse representation in this association that I love? So I ask myself a question: Do I really want to be a part of the problem or a part of a solution?
It's clear you put a lot of thought and passion into everything you do.
It would be remiss of me if I didn't also say that I am thankfully blessed to be a member of this team. And I applaud Landscape Ontario's commitment to strengthening inclusivity by moving the dial forward on racial equity and inclusivity. Thank you to the receptive leadership team and all talented individuals on this subject, Joe [Salemi] and others; they have devoted resources and have held themselves accountable and are making important strides in creating more of a diverse association. And I'm really impressed each member approaches the sensitivity of the objectives, and have faithfully taken ownership of their roles to give this commitment their very best. So I just want to applaud them and say thank you.
What do you hope to see happen with diversity in the landscape profession?
What do I hope? I understand we are tasked with the responsibility to establish a framework of equitable inclusivity and not necessarily to provide answers, but rather to add other plausible solutions to achieve inclusivity for Landscape Ontario and member companies.
Some of us may not understand the rationale or have the enthusiasm to address this issue because it may not be their experience. But does that mean it's not the story of another? As long as our egalitarian efforts are seen as predominantly guided by the exclusion rather than together with those whom we excluded there will not be meaningful change to inclusivity. And if you happen to come across LO and decide to check it out, the first impression is not inclusive or inviting, despite the awesome online presence and the awesome website that we have. So I'm praying that we would be able to suggest a blueprint so everyone in the profession may use it to make changes to ensure diversity, equity and inclusion within their respective companies.
This is a first step forward in realizing our stated objective of enhancing each and every life. I may quote Martin Luther King Jr., who said: "The time is always right to do what is right." And I will reinforce that by saying, if we stand for what is right, what is right will stand.
We may fail at first, but so did Thomas Edison. So did Walt Disney. So did Sir James Dyson. They eventually found a way to succeed. We will find a way to succeed, I believe. So LO needs to be the stadium for all the players to play in. One common playground for all.
Is there anything else you'd like to share with the LO community?
I have a different view about challenges. Challenges and disappointment, they are inevitable, but misery is optional. I'm not saying everything is amazing all the time. I'm saying that when things get challenging for me, I still have a sense of joy because of the attitude I employ, because I truly believe challenges produce growth, intellectually, spiritually and professionally. So rather than focus on the challenges I embrace the positive opportunities.
When you think about it, ships do not sink because of the water around them; they sink because of the water that gets into them.
If you let those challenges get into you, then yes, you're going down. So my life is motivated by these cool, harmonized mindsets, one of which is I do not wish that the task or the challenge is easier. Think about it. Terrible winds that prevent or challenge most birds from attaining great heights gives the eagle the opportunity to go where no other birds are going. So challenge can be the advantage of opportunity.
---
Interested in joining LO's Diversity, Inclusion and Belonging Committee?
Contact Committee Chair Ed Hansen at: edhansen@landscapeontario.com.
This interview was adapted from an episode of the Landscape Ontario Podcast, published in April 2022. To listen to the podcast, visit landscapeontario.com/podcast, or search for it on your favourite podcast app.