January 2, 2023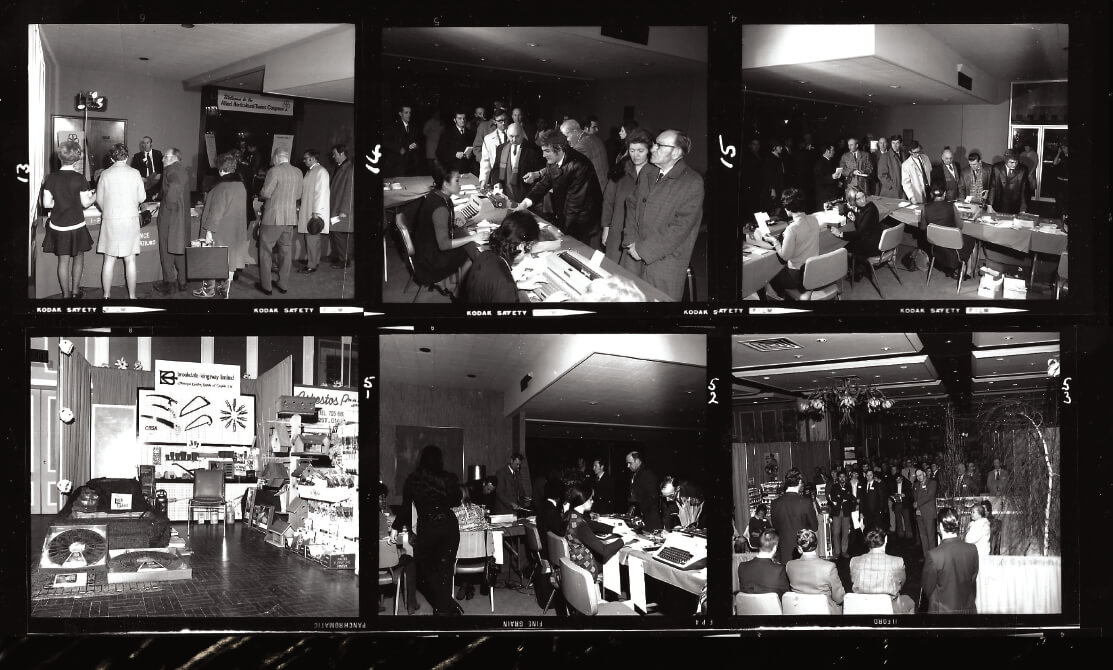 There is no doubt that Congress played a major role as the catalyst in the creation of Landscape Ontario. The independent horticulture groups that joined to create the first Congress became one allied association to represent a professional industry.
The first Congress meeting was held in 1969 at the Inn on the Park in Toronto to organize a co-operative under the banner of the Allied Horticultural Trades. The meeting, chaired by Dick Sale, included four associations: Ontario Nursery Trades Association, Ontario Landscape Contractors Association, Ontario Garden Maintenance Association and the Nursery Sod Growers Association. Each one had previously staged its own Congress-like event. The sod growers eventually decided not to become part of LO.
The first unified Congress was held in 1970 at the Skyline Hotel in Rexdale. At the time, it was considered a huge success with 400 delegates in attendance. The next year, Congress was held at the Royal York Hotel in downtown Toronto, with the 1972 event back at the Skyline.
The four independent associations were amazed at the success of the initial events. During those years, the seed for unity was planted. People such as Casey van Maris, Glenn Peister, Bill DeLuca, Marc Thiebaud, Knox Henry, Howard Stensson, Syd Queripel and Bill Schreiber began asking their fellow industry members, "If we can create this success with our combined show, imagine what we can do as one united and strong association?" After a great deal of effort, successful germination followed.
The fledgling organization, Landscape Ontario, was quick to make changes with Congress. At a meeting during the summer of 1973, Congress Chair Syd Queripel and Show Manager Dave Courtin announced Congress '74 would be held at a new location.
Scheduled for Jan. 28 to 30, plans called for Congress to move to the new Four Seasons Sheraton Hotel in Toronto. Part of the move resulted in an increase of exhibition spaces from 51 to 73. The headline in Landscape Ontario magazine read, "Congress 1974: A Landmark for Landscape Ontario." On hand to open the show was Ontario premier Bill Davis. Overall attendance was 750, and the event was described in the magazine as "the best Congress ever."
In 1976, Congress was again held at the Four Seasons Sheraton Hotel, where for the first time the Canadian Nursery Trades Association and Landscape Ontario held joint meetings. This Congress also featured attendance of 217 students from 10 different colleges and universities across Ontario. Then, Congress '77 had the best registration yet, with 1,800 attendees, plus 300 students.
Congress in 1978 was the first time the event was produced solely by Landscape Ontario staff. Bad weather did hamper attendance at the Sheraton Hotel in Toronto with numbers at 525 the first day, 650 the second and 125 on the third day in blizzard conditions.
Ontario Minister of Agriculture Lorne Henderson opened Congress '81 and noted that nursery sales alone contributed a value of $30 million in 1979. The number of exhibitors increased by 15 per cent over the previous year with 112.
The following year saw the growth pattern continue. Held at Sheraton Centre in Toronto, over 3,200 registrants took part. Tom Thompson, executive director of the Civic Garden Centre and the first commissioner of Metro Toronto Parks, officially cut the ribbon to to open the event. The show attracted a total of 119 exhibitors with H.C. Downham winning the best exhibit award. Harold Deenen was chair of the event.
Magicians, fortune tellers, strolling musicians and and a giant birthday cake were all part of Landscape Ontario's tenth birthday celebration at Congress in 1983 at the Sheraton Centre in Toronto. A total of 4,180 people registered for the event, making it the all-time high number. There was also a record number of exhibitors at the show with 130. It was the second consecutive year the show sold out with 15 companies on the waiting list.
The past presidents brought a great deal of humour to the tenth birthday bash that was remembered many years after the event. A number of them dressed with funny masks and costumes.
LO Executive Director Bob Cheeseman and Howard Gallup of Farmers Supply & Equipment congratulate draw winner Martin Kovacs as LO board member Jim McCracken raises his hand, while Karl Stensson and Mark Cullen look on.
---
The economy was in a tough place in 1984. The Bank of Canada had raised its prime lending rate to 10.56 per cent — the highest level since December 1982. The growth of Congress continued in 1984 with an attendance of 4,400 and the number of exhibitors at 143. An article on Congress in Landscape Ontario magazine concluded, "Congress '84 provided an exciting mix of business and pleasure in an atmosphere fresh with expectation for economic recovery." Winner of the best booth award was Mori Nurseries of Niagara-on-the-Lake.
Heavy snow storms that hit the province saw attendance drop by two per cent at the 1985 Congress, compared to the previous year. Despite the storm, only one exhibitor failed to show at the Sheraton Centre in Toronto. With a total of 148 booths, Sommerville Nurseries of Alliston won the best booth award.
At 4,970, attendance at Congress '86 was the highest ever. Held again at the Sheraton Centre, Congress chair Anna Zalewski said that education was the number one priority. Casablanca Night attracted over 200 people and raised over $1,600 for the Foundation. Past Presidents' Awards were handed out to Burke McNeill, for his work toward the Association, and Vic Palmer for his efforts in building the Toronto West Chapter.
It was estimated that 7,500 delegates were in attendance at the 1989 Congress — another record breaker. Then again in 1990, show manager Jo-Anne Willets reported another increase in attendance with over 8,000 attendees at the three-day show. The trade show floor also expanded to occupy all three floors at the Sheraton Centre.
With a growing Congress and the Sheraton Centre at capacity, plans called for Congress to move to Copps Coliseum in Hamilton 1991. Opinions on the move were varied. Some strongly agreed, while a large number said they were "cautiously optimistic." Willets said that Congress currently accommodated 225 exhibitors, while the next year was expected to hit 300. It was also decided to move Congress dates up a week earlier than previous events. Congress '91 was held in a new home in a new city. Despite concern about leaving downtown Toronto for Hamilton, it was termed a huge success. Many commented how much more spacious the Hamilton facility was compared to the Sheraton Hotel. Exhibits increased to 278.
Over 8,300 delegates visited Congress '92 at Copps Coliseum. "I felt that the show was a great success," said Congress Committee chair John Smit. Awards of Excellence coordinator Ann Lederer said the number of entries jumped 40 per cent over the previous year.
Congress '95 saw another record attendance with over 8,500 people arriving at Copps Coliseum from Jan. 17 to 19 to view nearly 400 exhibits. The awards luncheon was changed to the Recognition Breakfast, where individual winners of Awards of Excellence were presented with their hardware.
Following the 1995 event, LO's Provincial Board of Directors voted to move Congress from Hamilton's Copps Coliseum back to Toronto. It was decided that the Metro Toronto Convention Centre would be the home for Congress '96.
Then Executive Director Tony DiGiovanni explained to members, "Congress is our most important event of the year, and the decision to move was not an easy one. We know we are not going to please everyone, so we took the extra time to poll both exhibitors and delegates to ensure that we had the majority consensus in favour of moving to Toronto."
Results of the survey showed strong support for Toronto from those chapters east of the city, while chapters west of the city showed a preference for Hamilton. A survey of delegates and exhibitors was split on their choice of locations.
With the resignation of show manager Jo-Anne Willets, assistant show manager Diana Lynn-Hughes took on the interim title until a new person could be hired. On March 20, 1995, LO announced Paul Day as the new show manager for Congress.
With a new show manager and a move back to Toronto for Congress '96, the venue was later changed from the Metro Toronto Convention Centre in downtown Toronto, to a newly-renovated facility just minutes away from Toronto's International Airport. The Toronto Congress Centre, located at 650 Dixon Road was conveniently located only a stone's throw away from the major 401 and 427 highways. It was also central to many large hotels, including one directly across the street. Now the host hotel where many delegates, exhibitors and staff stay during the event — and where events like the Awards of Excellence ceremony are held, that same building back in the 1970s had a different name: the Skyline Hotel, where the very first Congress was ever held.
The first year Congress was held at the Toronto Congress Centre it shattered previous attendance and exhibit numbers. Held Jan. 16 to 18, attendance jumped 20 per cent to over 9,500 people. The show itself expanded by over 30 per cent with 427 exhibitors. A major entertainment factor was the appearance of Red Green and his nephew Harold at the final day ticketed breakfast, attracting over 300 people.
Congress celebrated 25 years in 1998.
---
A town crier in full uniform, ribbons and balloons all contributed to a festive atmosphere at Congress '98 to celebrate the 25th anniversary of Landscape Ontario. The Congress Committee, under the chairmanship of John Langendoen of Willowbrook Nurseries, went to great lengths to ensure the silver anniversary was one to remember.
The LO booth, created to look like an old village square, was the site where the 25th Anniversary Yearbook was unveiled by committee chairs Monica van Maris and Karl Stensson. Three years in the making, the 144-page book recounted the history of the association and the changes within the various sectors of the industry. A giant 25th anniversary cake at the LO booth was estimated to feed 500 people.
In 1999, Toronto mayor Mel Lastman requested military assistance to help Toronto shovel out from beneath the white mass left by what was described as "the snow storm of the century." In response to Mayor Lastman's plea, over 400 troops from CFB Petawawa arrived in the city. Meanwhile, Congress '99 resulted in the largest show ever. In an unprecedented move, Congress closed one hour early on Thursday with a forecast for another heavy snowfall in Toronto. Attendance at Congress 2000 shattered all past attendance records. With over 12,000 people visiting the show from Jan. 11 to 13, it was 24 per cent higher than at any time in the show's 30-year history.
Congress 2001 had 12,025 attendees and featured many changes from past events. For the first time in many years, a fee was attached to attend seminars. Conference coordinator Pat Hillmer reported that several sessions were sold out.
Congress marked its 31st year with 12,668 attendees who had the opportunity to visit the 773 exhibitors within the 7.5 acres of trade show space. Many of the conferences were standing-room-only, with some people spilling into the hallway.
Once again Congress set a new attendance record in 2003, when over 14,000 industry professionals took part. That year, the show days changed to a Wednesday-to-Friday format. After several years of different dates and venues, it was decided that the association's Annual General Meeting should be held in conjunction with Congress.
In 2003, Landscape Ontario's Congress was recognized as one of the top 50 trade shows in North America, ranking among the top five of horticultural trade shows in the continent.
Congress 2005 saw the Canadian Fence Industry Association join forces with Landscape Ontario's event, resulting in a 14 per cent increase in attendance over the previous year. Tradeshow Week magazine in 2005 listed both LO's Congress and Garden Expo as two of the largest trade shows in Canada.
Congress came in as the 12th largest show, while Garden Expo ranked 45th. New features at the 2006 show included an Internet Cafe and the History on Display that featured antique lawn and garden equipment.
The 2007 edition of Congress garnered rave reviews following the three-day show. Show manager Paul Day said, "This was by far one of the best shows yet, especially with the cooperation of the weather."
Congress in 2008 was held from Jan. 8 to 10, featuring an early open date with Warm-Up Monday hosting the Landscape Designers Conference, IPM Symposium, and Jim Paluch's lean management program. Paul Doornbos led a marketing and sales management certification prep course and the LO irrigation group held a 'roundup.'
Congress 2009 received high marks for its many new and green products. Adding to the excitement, there was a variety of environmentally-friendly products along with a Green Forum to exchange information and best practices on sustainable green initiatives.
Overall attendance at the 2010 Congress showed a 22 per cent increase over the previous year. The trade show began Tuesday, with over 60 Ontario mayors attending a special Green Eggs Breakfast. The event initiated the Green Forum at Congress, hosted by Landscape Ontario, Ontario Parks Association and Communities in Bloom.
Following the opening ceremonies, the delegation was led by a piper in full Scottish regalia to a special presentation of an environment award from Landscape Ontario to Mayor David Miller and the City of Toronto. The award was presented by LO's former Executive Director Tony DiGiovanni, who said that Mayor Miller's core value is environmental stewardship.
A special visitor during Congress 2011 was Ontario Lieutenant Governor David Onley. He delivered an inspiring speech to a crowded room of participants, park managers/ planners and business owners. The event was a joint venture among Ontario Parks Association, Communities in Bloom - Ontario and Landscape Ontario, as part of the Green Communities networking event.
"The best show ever" was the general consensus that surrounded Congress 2012. It was a proud time for everyone in the room when the 2012 Association Achievement Award was presented to Kyle Tobin, Alan White, Peter Guinane, Pat Lamanna and Brad Vanderwoude, for the St. James Park renovation project, which garnered positive media attention toward both the industry and Landscape Ontario. Making the St. James presentation special was a surprise appearance by Toronto Mayor Rob Ford. Ford congratulated the volunteers and companies who donated time and material. "I am here to extend thanks on behalf of myself, city councillors, staff and citizens of Toronto," said the mayor.
After 17 years as show manager, Paul Day announced his retirement prior to Congress 2012. Colleagues, friends and family took the opportunity at the 2012 Tailgate Party to say goodbye. Day was the driving force behind the growth of Congress into one of North America's largest green industry shows.
Early 1970's Congress, best exhibit award. At right, cover of LO Magazine — January 1974.
---
Congress 2013 reflected on Landscape Ontario's 40th anniversary. Attendees had an opportunity to view all the past presidents of the association through the Walk of Fame. The anniversary theme was organized by a committee chaired by Monica van Maris.
Coming off her first year as show manager, Heather MacRae said, "Congress 2013 was in many ways the perfect storm with a sold-out show. Supportive sponsors, a top-notch education line-up and great attendance, which all made for a successful event. Celebrating the 40th anniversary in such a positive manner set a great tone for the start of 2013."
Hundreds of industry professionals overcame frigid -24 C temperatures, snow and the aftermath of the December ice storm to attend Congress 2014, held Jan. 7-9 at the Toronto Congress Centre.
From the trade show floor to the conference rooms, Congress 2015, held from Jan. 6 to 8, provided the nearly 12,000 attendees with what they were looking for, and more. MacRae said, "I saw and received many positive comments on this year's Congress. From attendees to exhibitors, Congress 2015 was a great success."
New products, new suppliers, new services, new ideas, and creating and maintaining relationships were reasons nearly 12,000 people attended Congress 2016, Jan. 10-12, at the Toronto Congress Centre. New in 2016, Landscape Ontario's Hardscape Committee worked with show organizers to bring live, interactive demonstrations to the show floor with the Hardscape LIVE program.
Many email threads, social media and blog posts and delegates in attendance at Congress '17 described Canada's Green Industry Show and Conference as "the best Congress ever." Held Jan. 10-12 at the Toronto Congress Centre, show organizers made many changes: from an extensive digital marketing campaign, to utilizing new technology, to adding more live demonstrations on the show floor. Heather MacRae said many exhibitors and attendees noticed the changes and described the show as a "refreshed and renewed Congress." She added that well over 13,000 people attended — over 1,000 more than the previous year. MacRae strongly believed the increase in show attendance was partly due to a huge effort to modernize the exhibitor VIP passes and online registration system.
More than 400 exhibitors participated in Congress 2020.
---
Congress '18 proved once again the event was an ideal place for landscape and horticulture professionals to gather at the start of each year. Held Jan. 9-11 (with some special events on Jan. 8), Canada's Green Industry Show and Conference at the Toronto Congress Centre in Toronto, attracted nearly 14,000 visitors.
A record-breaking 15,657 landscape and horticulture professionals attended Congress '19, Jan. 8-10. The 46th edition of the three-day trade show and conference featured over 600 exhibitors on over eight acres of show floor, a full conference, special after-hours events, live demonstrations and some sector-specific conferences and symposia.
Members of the landscape and horticulture profession gathered once again at the Toronto Congress Centre to kick off a new year and a new decade at Congress 2020. MacRae said one of the biggest changes was a number of show features added to Hall F. These included: axe-throwing, a Patio Lounge, an Ale Trail station, the Landscape Ontario job board, free WiFi and a phone charging station. "We really should have called it Hall Fun," MacRae said. The new features were added to complement the existing Hardscape LIVE stage and Canada Blooms Campus student gardens.
With no easing of COVID-19 pandemic restrictions on the horizon, organizers of Congress 2021 creatively moved forward with a virtual format to provide green professionals with education, product information and networking opportunities. The re-imagined event was called Congress Connect, and launched Jan. 12-14, 2021. The event hosted over 12,000 participants.
In July 2021, Landscape Ontario announced that Congress Redefined would be an in-person trade show, scheduled for Jan. 11-13, 2022 at the Toronto Congress Centre. The event would mark the first gathering of landscape and horticulture professions in two years. In December of 2021, just weeks before the event, organizers were forced to make the official announcement that the show would be cancelled for the second straight year due to the surge of the Omicron variant of the coronavirus.
Congress '23, held Jan. 10-12 is a highly anticipated, special event that will celebrate the 50th anniversary of the trade show and Landscape Ontario. Organizers have once again reimagined the Congress experience with many changes to popular show features, including the New Products Showcase, LIVE Stage, Tailgate Party and more. The Congress Conference sessions continue to offer a wider range of topics and speakers from many sectors and industries and a live, interactive floor plan will allow visitors to find exhibitors and then get walking directions to that location right on their smartphone.
For over 50 years, Congress has provided a forum for landscape and horticulture professionals to gather under one roof to share ideas, renew and create friendships, and to become a unified voice for the profession. Held at the start of each year, Congress provides energy, enthusiasm and ideas for the year ahead. That first ever Congress was a catalyst in the creation of Landscape Ontario and it will continue to be a catalyst for countless other initiatives, ideas and projects in the years ahead.