September 1, 2019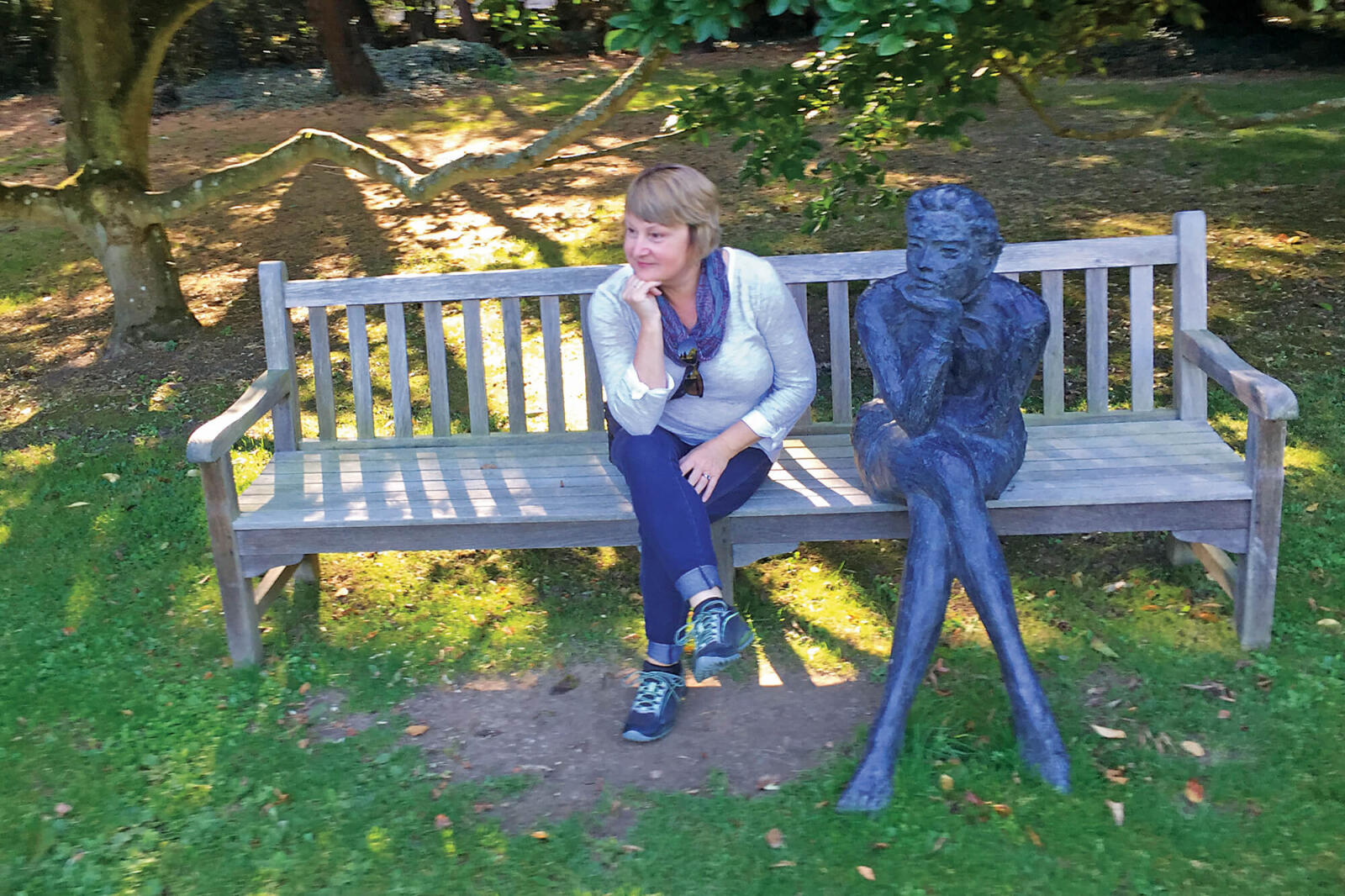 Design is a privilege
An interview with Ellen Ruddick, CLD
BY ANITA JACKSON, CLD
ANITA:
What is your first memory of being interested in gardening and landscaping?
ELLEN:
My favourite place to go when I was little was an area we called the swamp. I remember sitting on the rocks, just watching the water and the tadpoles and the green plants.
ANITA:
How old were you?
ELLEN: Not very old, probably preschool. Once we got into school, we loved hanging out in the woods close by. We would hang from the trees by our knees, upside down.
ANITA:
How did you find your way to study landscape design at Dalhousie Agricultural College?
ELLEN:
After meeting a horticulturalist from the Niagara Parks School of Horticulture in southern Ontario, I decided to study horticulture and design. Although I did not have the science background, I applied as a mature student and studied the ornamental horticulture program, graduating in 1980.
ANITA:
How did you come to work for Price Landscaping Services?
ELLEN: I worked in farm marketing after graduation, and when working at Kredl's in Hampton, N.B., I wanted to continue my knowledge in landscape design, so I went to a design sales course in Moncton. The owner of Price Landscaping Services and his staff were there. They are one of the larger landscape firms in New Brunswick. We had to do a small design on the first day and go home and complete the design that night. The next day we had to present to aclient. So, I did the design and I went in, and who doyou think my client was? It was the owner of Price Landscaping Services. With any type of presentation, you get a little bit of jitters, but it was okay. He did hammer questions to me, but I seemed to have had the answers because after lunch he returned with an application form for a design position to me. The funny side of the story was that I really wanted this job. It was what I had trained for. Landscape design jobs were very few and far between. In those days, a company that was hiring designers was a rare thing. Thirty-one years later, I'm still working there and living in Moncton.
ANITA:
What's the advantage of working with one company for that length of time, in terms of developing your design skills?
ELLEN:
Well, during the time I was there, half was spent as an employee and half the time as a business owner; so there were two different chapters of my work history. After the first 15 years, the owner decided to retire, so he asked myself and two other managers if we were interested in buying his company. We were, so the three of us went in as equal partners. It was interesting to take on a new role. It was good because in my first 15 years I was learning so much from the people I worked with, especially on the construction side. I was not a designer who had worked out in the field. A lot of companies promote someone from the field crew to go into design, but it was different in my situation. I had a lot to learn about construction. I had a great opportunity to work with a man who I called 'the Guru of Landscaping.' He and I would go on a site together, and he would see issues right away. I learned about site drainage and over construction. When you are dealing with landscapes, there are already buildings and structures in place that would have issues that play into the design. Whenever we had a large project, we would work through the whole site seeking solutions for everything the client's property required to function properly rather than just the aesthetics; it was so much deeper than that.
ANITA:
Were you involved with lighting, carpentry, wall construction, hardscape and planting design?
ELLEN:
Yes, we do all those things. I work on the design, but really, it's a team effort. As a design-build company, I would be working with the same people. It is great because you get to know everyone's strengths. If you can bring out people's strengths and work as a team, you can bring a great service to clients. I think it's a benefit to work in a company that does installation as well as maintenance, because you get to see the project through to its conclusion. You can see how the landscapes continue to evolve over time. I can still see projects we worked on 30 years ago, and some we still maintain. As for being a designer working on their own, I think it would be challenging getting all the information one needs on construction issues. I was just fortunate to have a lot of knowledge around me.
ANITA:
When did you get involved with the Atlantic Association of Landscape Designers (AALD)?
ELLEN:
John Higgins, former instructor of Landscape Horticulture at NSAC, came to see me as a follow-up after graduation. I asked him, "How do we continue to connect to other landscape designers to network and help each other?" He said there were provincial associations, but nothing specifically for designers. He went back to the college and thought about it and soon there was an invitation to all landscape alumni to come to a meeting about setting up a trade association for landscape designers. There was a large group at that original meeting. I think we had 25-30 people, and I got involved right from the beginning.
ANITA:
Do you have a unique design style?
ELLEN:
I work on applying the design to the owner's lifestyle, as well as the home's architecture. There is such a variety of gardening styles, and I do not to want put myself in one box. We must be able to work with different clients. If you can educate yourself on the different styles it helps your career. Follow trends and be able to keep up with change.
ANITA:
Is there a designer you particularly admire?
ELLEN:
I admire landscape architect and author Julie Moir Messervy from Vermont. I met her when she came to speak in New Brunswick and I heard her speak in Ontario. I have always appreciated her philosophy towards design and creating meaningful and creative outdoor spaces.
ANITA:
What specifically did you like about your work?
ELLEN: I love working with clients to create landscape spaces to suit their lifestyles. My goal is to create landscapes that are meaningful to them.
ANITA:
How do you charge and set up contracts with the clients?
ELLEN: I always set up a contract with clients. I make sure they are very aware of the process, estimated hours required and the design rate. The project may only require a quick sketch perspective or a consultation, or a full set of plans drawn to scale, lighting or irrigation plans and 3D renderings. When I meet with clients the contract is set up once the scope of work is determined. It is so important to be very clear with this to avoid any confusion later on.
ANITA:
How many designs would you do in an average year?
ELLEN:
It varies. I would say 25-30 full designs in a year. Remember, as a business owner I was wearing many hats. Most of the time there would be myself and another designer, so I would oversee the design department.
ANITA:
That's quite a few.
ELLEN: There were lots of small designs in between as well.
ANITA:
Did you have a favourite project?
ELLEN: It's hard to say. We do a lot of residential work. It's nice after 30 years to see the properties are still looking good and they are lasting the test of time. That's so important. And I have had clients come back several times if they moved, and they will say, "It worked out so well the first time, I want to have you back to do our new property." I have developed good relationships over time with clients. That's a nice thing about working with people; it's all those relationships. It's a privilege.
ANITA:
At our recent AALD meeting you mentioned mentorship as a theme moving forward. Why do you feel this is important?
ELLEN: The young people that are receiving training in our industry could benefit from the experience and knowledge of our AALD members. I find amongst our members there is a desire to help others and to keep the industry going forward. We look forward to starting our mentorship program.
ANITA:
Do you have any advice for new landscape designers?
ELLEN: My advice would be to remember that what they are doing is a very valuable and professional service. We, as landscape designers, are creating outdoor spaces for people to live in and to enjoy with their families, plus we are working with nature to create landscapes that are healthy environments. I think that is so important right now. It's not just about aesthetics. It's about bringing people out into nature and designing wonderful green spaces for our clients.
---
Anita Jackson CLD, runs a design consultancy from Seabright, N.S., and is an enthusiastic garden history researcher.